About the San Gabriel Valley
The San Gabriel Valley lies in eastern Los Angeles County, California, at the foot of the San Gabriel Mountains. It covers an area of approximately 200 square miles. Once a primarily agricultural valley, it is now highly developed, and is mostly urban and suburban in nature. Around two million people call the San Gabriel Valley home, and they create a huge demand on water resources.
As you browse through our web site you will notice that the Main San Gabriel Basin (also known as the Main Basin, San Gabriel Basin, or Upper San Gabriel Basin) receives more emphasis than the other basins. It is the largest of the three, produces the most water, and has the most widespread pollution problems.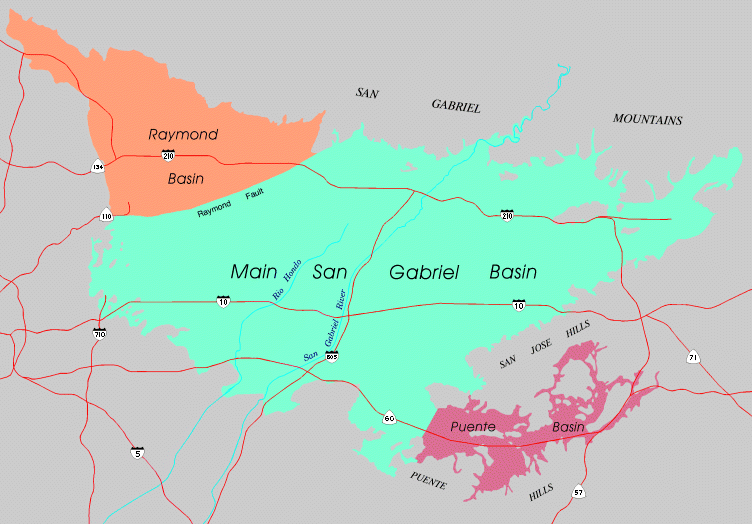 The San Gabriel Valley is bordered by the San Gabriel Mountains to the north, the San Rafael Hills and the Crescenta Valley to its west, the San Rafael Hills and the Puente Hills to the south, and the Chino Hills and San Jose Hills to the east. The mountains are characterized by their deep, steep-sided canyons. The San Gabriel river, after which the valley is named, runs through the center of the valley from San Gabriel Canyon.
The San Gabriel Valley, home to a rich blend of people and industry, is known as one of the most diverse regions in the country. There are around two million people in the valley and the population is largely composed of Hispanic/Latino and Asian Americans. Though, due to the broad range of opportunities and resources available, from science and technology, to art and faith, education and commerce, almost every culture, creed, and class is found here.
The Valley's water needs are served by a number of private water companies and public water agencies. In any given year, as much as 80 to 85 percent of the water supply comes from groundwater sources, making local groundwater a precious resource that must be carefully managed and protected. The remaining demand is met by importing surface water from the State Water Project and from the Colorado River.
The water-bearing deposits of the Valley consist mostly of alluvial sands and gravels, interleaved with silt and clay lenses in some areas. There are three important groundwater basins, as shown in the groundwater resources map above. The Main San Gabriel Basin is the largest, and is separated from the Raymond Basin to the northwest by the Raymond Fault, which serves as a partial barrier to groundwater flow. The Puente Basin is a shallow basin that underlies the Puente Valley and is tributary to the Main San Gabriel Basin. These three basins are managed separately.